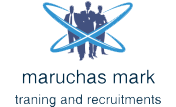 040-40102650
info@maruchasmark.com
Accent Training & Corporate Training
Organizations today recognize training needs of their employees that play an important part in maintaining relationships with their customers and developing a successful business. Maruchas Mark offers a wide variety of corporate training courses like Voice & Accent,soft skills training, Effective Communication skills, Business Etiquette, Spoken English, Attitude training ,Telephone Etiquettes ,Presentation skills Email etiquettes to name a few.
Business English
You are smart. You are intelligent. You are hardworking. Then what makes your colleagues more successful than you? The answer is simple; they are better presenters & Communicators. While you fumble for words & mess-up the situation, they've already put across their point confidently and effectively. You avoid your seniors like the plague, Join Maruchas Mark Business English Course, and create a competitive edge over others and become a winner.
Maruchas Mark is proud to have the best trainers in the business along with the best training practices, which have proven results.
Soft Skills and Life Skills Training Program for Corporate
Personality Development
Functional Grammar
Accent Reduction
Cross Cultural Communication
The Art of Communicating
Listening Skills
Writing Skills
Email Etiquette
Customer Service
Telephone Etiquette
Selling Skills
Team Building
Business Communication
Corporate Culture
Train & Hire Program for the Corporate