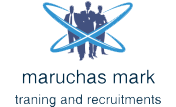 040-40102650
info@maruchasmark.com
Maruchas Mark Training & Recruitments
Maruchas Mark Training & Recruitments is Hyderabad based, customer Service Company delivers world class training and recruitment solutions to a spectrum of clients across the country. Maruchas Mark is a young and fast upcoming organization. Our mission is to provide world- class Training and Recruitment solutions, services and products to a wide array of clients across various industry areas like BPO, IT, KPO, Healthcare, Finance, Insurance,& Telecom. With a strong people focus, and state of the art infrastructure, Maruchas Mark is providing quality driven solutions to its clients across the Country. We offer a human-touch" approach that combines skilled customer service representatives with advanced customer and information management technologies. With the clear focus on the quality, Maruchas Mark aims to be a major player in the Training and Recruitment Industry.
Maruchas Mark partners with the clients to increase their productivity by migrating various Training and Recruitment processes, maintaining the same quality with significant reduction in the associated costs. Maruchas Mark helps clients to effectively control the rising cost of acquiring and managing new Employees. Our services are designed to provide end-to-end "outsourcing solutions" to our clients. Our service delivery platforms are organized along 2 main areas – Training and Recruitment. A dedicated operations team supports each delivery platform. Through a mixture of scale, technology, and best practices, Maruchas Mark helps clients define how to improve efficiency in training and lower costs for their various functions by outsourcing Recognizing the importance of English Language Fluency to the success of every career, "Maruchas Mark" has introduced a range of programs to enhance English communication skills for Individual.
"Maruchas Mark ' English training programs are designed to help ' working executives , college students school students & House wives' move beyond the rules of grammar and talk smart. People with poor English Speaking Abilities, who wish to move ahead in life, will benefit the most from these English Proficiency Programs.
We welcome you to join our English Proficiency Programs.Our staff is committed to giving you a great and a different learning experience with ensured results. Whether you wish to start learning English as a beginner or whether you are a student, Executive, House wife, we have the right learning package for you, based on your level. Our English learning courses offers you a curriculum that works for you. At "Maruchas Mark " we have a group of qualified and experienced trainers who are committed to helping you with all your training needs, from curriculum modification to giving extra attention to individual needs, our trainers are committed to seeing that your training is complete and that your individual goals are met