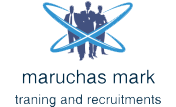 040-40102650
info@maruchasmark.com
Train the Trainer
Whether you are an inexperienced trainer or infuse professional, this Train - The - Trainer program will teach you how to determine the needs of an audience, improve classroom charisma. Handle hecklers, use activities effectively, and more. Our Train the Trainer course gives you access to tools, strategies and techniques orchestrated in a fashion that takes learning to a whole new level of experience. You will be introduced to a new paradigm in how training is designed and delivered, and how you can optimize your training environment to achieve outstanding learning results. This course provides ground-breaking training solutions that can be implemented in any training environment.
How do we do it?
First: Showing trainers how to get real buy-in from participants, overcome learning barriers, put learners in a resourceful state, and set the stage for success by the power of suggestion.
Secondly: Teaching trainers how to orchestrate a dynamic training environment, choosing and sequencing activities and structuring a program so that each participant learns continuously and effortlessly through the phases of training.
Thirdly: Showing trainers how to facilitate the transfer of information from short-term memory for permanent access back on the job.